IMED HOSPITALS is a group of companies that offers health assistance and general medical services in their hospitals.
Our mission is to offer specialized health services to our patients, with personalized assistance and the best techniques available.
Our vision is to be the reference group of hospitals in offering assistance because of our commitment with the patient and the environment, so that we can be established as a professional group in the Levante area and all over Spain. 
Our values are based in taking care of the patient, because this is the most important point for our staff, and always consider the sustainability of all the activities that take place in our centers.
To reach this mission, vision and values, each hospital has a quality and environment management system according to 9001 and 14001 regulations.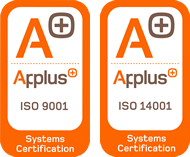 Imed Levante and Imed Elche Hospitals, establish their own Quality and Environment Policy that includes the next improvement commitment:
Make training courses plans for all the hospital staff, to have the highest qualification and skills to carry out their job and patients attention.
Consider the best technologies available in the market to improve and reach a high quality service, efficient and responsible.
Achieve the implementation requirements, the ones established by the patients and clients, and the legal requirements and others that the organization subscribes to.
Set up improvement tools to deal with the risks and opportunities of the organization, and try to improve the efficiency of the management system and the environment achievement of the organization.
To prevent the pollution by reducing the environment risks caused by the environmental aspect of the organization, from a life cycle point of view, taking care of the correct management of the biohazard waste produced and the sustainable use of resources.