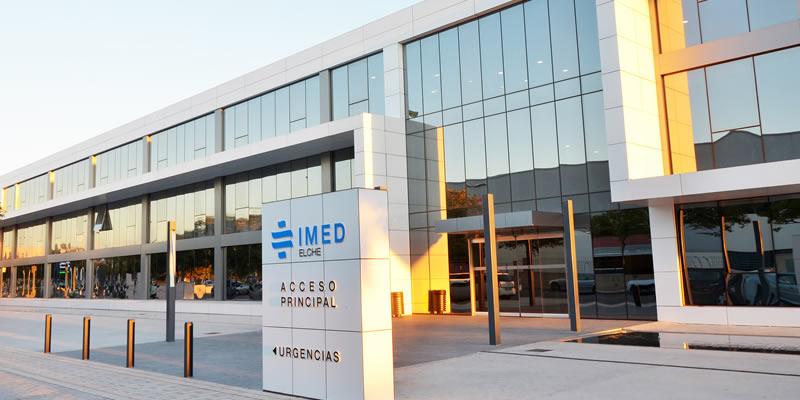 IMED Elche has been developed in order to offer high quality private medical services in Elche and its surrounding towns due to the absence of such facilities in the area. The healthcare services offered at IMED Elche are based on three principles:
Specialised medical care.
Avant-garde installations and technology.
A reputable team of professionals with first class expertise.

IMED Hospitals guarantees the ambitious project of IMED Elche thanks to the professionalism and vast experience accumulated in its centres in Benidorm and Teulada. A young multidisciplinary team of professionals in search of ground-breaking medical technology named the group IMED, standing for Innovation in the MEDical field. Innovation means more than just creating something new, it denotes taking an idea further by implementing it into practice in order to improve patient care.
IMED Elche is situated in the Elche business park. The location was chosen because of its close proximity to the city centre (a five minute drive) and well communicated roads; the N-340 National Road and the Via Parque Elche-Alicante. Likewise, it is easily accessible from the A-7 Motorway.
IMED Elche is situated in a business park spread over an area of 2,7 million m2 holding around 900 Companies. The Hospital is located in an area covering 24.500 m2 and it is distributed over four floors; the lower-ground, the ground floor and two upper floors. It initially comprises of 98 individual rooms (8 of which are suites) that are divided over 3 hospital wards. In a second phase of expansion, a further ward can be created in the actual building bringing the total number of rooms to 140.
Address
C/ Max Planck, 3 - Elche Parque Empresarial
03203 Elche, Alicante
www.imedelche.com